Nail That Gooey Centre With These Top Protein Brownie Tips and Hacks
You've sprung out of bed far too early, clambered into your sustainable sportswear, crawled to the gym, pushed through an invigorating workout, and all before the working day has even begun. Sounds like someone deserves a treat for their gym-going productivity? Sounds like it's time for some protein brownies?
Lucky then that recipe developing extraordinaire Natalie Penny has put together these top tips for whipping up a mean protein brownie mix, from the key to getting that perfect, fudgy centre to some pretty irresistible flavour combos. We're already drooling just thinking about it.
How To Add Protein Powder To Your Brownie Mix
Too much protein powder can make the brownies either too dry or too heavy, so always take out a little flour from the recipe to compensate, along with the sugar as most protein powders are sweetened.
Start with 1-2 serving sizes per bake and adjust accordingly for the next time you bake. They will still be delicious, and everyone's taste and preference are different. It also depends on if you are adapting a recipe to include it or making one that already has the protein powder included, as hopefully, the recipe developer will have tested it for you.
5 Tips To Protein Brownies Perfection
Sea Salt And Contrasting Texture
A sprinkle of sea salt is absolutely essential, and I love contrasting textures, so adding chopped nuts for pops of crunch, or fresh berries to the mix for little jammy gems, can really elevate your protein brownies from delicious to awesome.
Under Bake, Never Over
Over baking is the biggest mistake I see when people are baking protein brownies. Always slightly under bake for the fudgiest brownies, allowing them to cool fully in the tin and refrigerating for a few hours or overnight if you can wait that long. They will be easier to cut and the flavours more developed, as well as having that super fudgy centre that makes brownies so moreish.
Flax Egg FTW
If you're looking to make a mix vegan, flax and chia eggs are my go substitute for eggs in most of my baking; protein brownies included.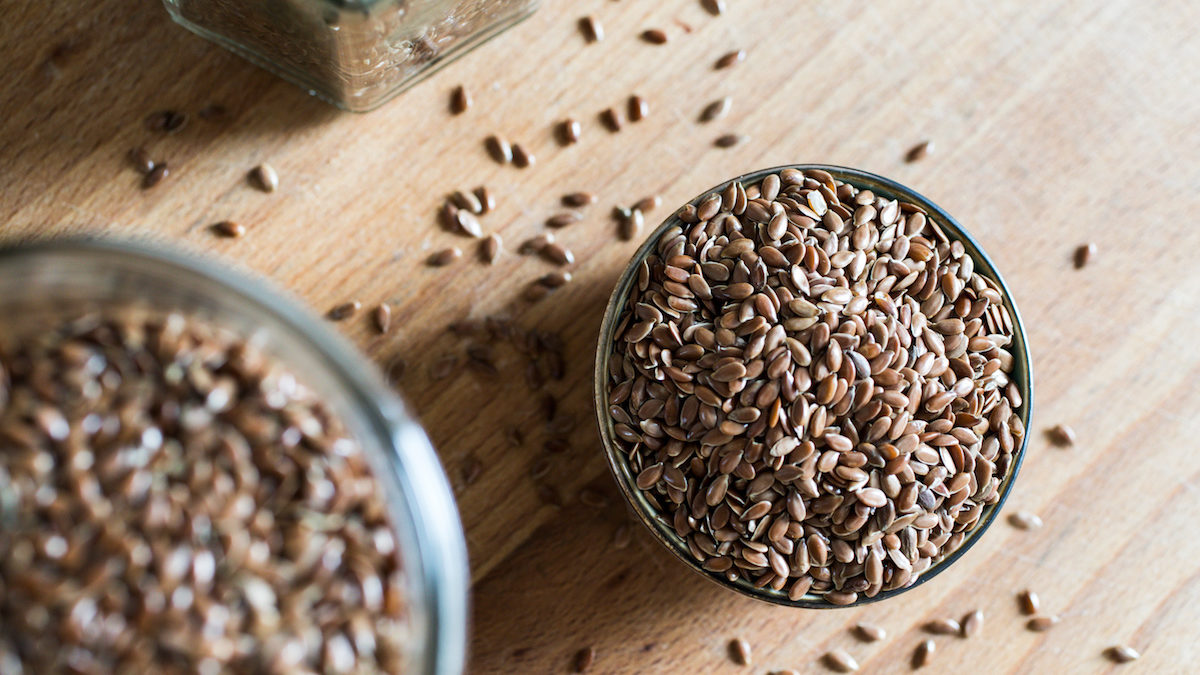 Freeze Your Berries
I love cherries and will often add a cupful of frozen cherries to my mix, but you could add also add raspberries if you prefer. I find frozen works best and are available all year. They become jammy during the bake, delicious when eating after.
Hazelnuts, Cacao Nibs And Banana Slices
Nut butter swirls and chopped hazelnuts are also winning combinations. For extra nutrients, I sometimes sprinkle with seeds such as hemp hearts or raw cacao nibs before baking. Sliced banana on top with a sprinkle of coconut sugar is another delicious combination.
How To Make Natalie's Salted Peanut Protein Brownies
Ingredients
½ cup ground nut oil
1 cup of coconut sugar or soft brown sugar
2 flax eggs (2 tbsp milled flaxseed mixed with 6 tbsp. water)
2 tsp vanilla extract
100g plain flour
250g dark vegan chocolate roughly chopped
¼ cup Dutch cacao powder
1 ½ tsp baking powder
½ tsp salt
¼ cup salted peanuts
½ cup crunchy peanut butter
Method
Pre heat the oven to 180°C.
Line a small baking dish equivalent to about 8-inch square, with baking parchment.
Mix the flax eggs together and set aside.
Place a small bowl over a pan of boiling water, making sure the bottom of the bowl does not touch the water. And the water is not boiling vigorously, just a light simmer is enough.
Add half the chocolate and reserve the rest. Gently melt the chocolate fully ad set aside.
In another bowl using a hand or free-standing mixer, whisk together the oil and sugar until combined. It might look a little like course moon sand but do not worry.
Add the flax eggs and vanilla, whisk again until well combined.
Gradually add the chocolate whisking continuously.
In a separate bowl, sift the flour, baking powder, salt, protein powder, and cacao powder. Stir to combine.
Fold the flour mix into the wet ingredients being careful not to overwork. Finish by folding in the reserved chocolate chunks and half the peanut butter in dollops. Fold but don't completely combine.
Empty into the prepared tin and push down and even the top, add the remaining peanut butter in dollops and roughly swirl, pushing into the batter. Sprinkle on the roughly chopped peanuts.
Place in the pre heated oven for approx. 20 minutes.
Allow to rest and cool completely in the tin before refrigerating or attempting to cut into squares. Ideally if you have the patience wait until the next day to cut them.
You can serve them warm, but you may well need a spoon to eat them.
How To Make Form's Choc Hazelnut Protein Brownies
Ingredients
240g kidney beans, rinsed & drained
1/3 cup choc & hazelnut spread
3 tbsp maple syrup
1 tbsp coconut oil
2 tsp vanilla extract
3 tbsp Performance Choc Hazelnut
3 tbsp coconut sugar
2 tbsp cacao powder
1 tbsp flaxseed
1/8 tsp salt
½ tsp baking powder
½ tsp baking soda
¼ cup oat milk
Toppings:
Method
Preheat over to 180c.
In a food processor, add the wet ingredients except for oat milk and blend together.
In a bowl, mix the dry ingredients, then add it to the wet ingredients, add in the oat milk and process until the batter is smooth.
Spread batter evenly in a baking pan lined with parchment paper.
Sprinkle the hazelnuts on top and press it down.
Bake for 30-35 mins or until the toothpick comes out clean and the edges are a tiny bit brown. The batter may look underdone, but you don't want them to dry out. Cool pan for 20-30 minutes on a wire rack. Stored covered in the fridge, it will last 3-5 days.